Invoice Payment
Thank you for ordering your race numbers from us. You can make a secure payment here, just simply enter the details below then click the 'Pay Invoice' button.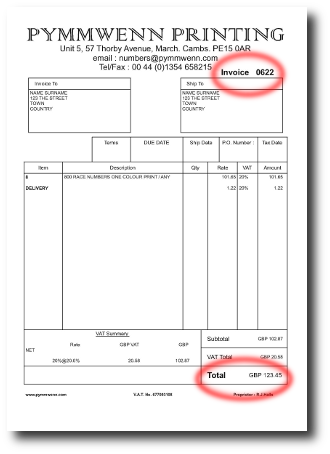 Frequently Asked Questions
Is the payment secure?
Yes, after you click 'Pay Invoice' all processing is done securely by Worldpay
Where can I get my "Invoice Number" from?
It's on the top right of the invoice we sent you, labelled "Invoice"; see illustration; just enter the number in the box above e.g. 0622.
What amount do I pay?
It's the "Total" figure on the bottom right of the invoice we sent you; see illustration; just enter the figure in the box above e.g. 123.45
How can I pay?
Our payment form will let you pay securely by credit or debit card.
Will paying this way cost me more?
No, the invoice Total is all you pay.
Which currency do I pay in?
Please select the currency as indicated on your Pymmwenn Printing invoice.
What happens next?
When secure payment is made you will receive a confirmation email. We will see that you have made payment and your order with be scheduled for production.
Refunds policy
If you're not absolutely satisfied with your order, here's how we can help:
First, contact us and let us know what your issue is.
Then, we'll work with you to find a solution that you'll be happy with.
PLEASE NOTE : PROOFS : If you discover a mistake with a proof after you have given us your approval, then no liability will be accepted once production has commenced.